How CPG companies can sell wellness to Gen Z
Post-pandemic there is an increased demand for wellness products, largely driven by Gen Z who are pioneering a broader picture of health. As the younger generation rises in importance, commanding $360 billion in disposable income as of 2021, it is vital to understand their needs. In this article we consider four case studies, to understand how brands might capture new consumer interest in the wellness industry.
Why the increased focus on health? The impact of COVID
The COVID pandemic gave rise to a hyper-focus on health care; people were stopping to consider the choices they were making and the possible ramifications for their wellbeing. Post-covid, physical and mental health is "still firmly on everyone's radar," something Marie Claire attributes to the lockdowns, teaching us "how much balanced eating, a positive outlook and movement can boost our daily lives." 11–26-year-olds are driving this trend, with their mental health post-pandemic creating cause for concern. According to Deloitte, 46% of young people feel stressed or anxious most or all of the time.
So, what does this mean for the wellness market? The younger generation have a more all-encompassing view of health, looking beyond the typical factors of diet and exercise. According to EY, "Sleep and downtime, awareness of body image, sexual behaviour and orientation, gender identity, diet and nutrition – all are part of one picture of health for Gen Z." This creates broad potential for consumer-packaged goods, ranging from whole foods to functional beverages and makeup. The younger generation are also markedly more concerned about their physical and psychological wellbeing, with 46% expressing concern compared to 38% of Millennials. The figure for Gen Z sits roughly on par with Boomers, however McKinsey revealed that the former experience worse mental health, while the latter focus on the physical. In the following case studies, we consider four Gen Z-approved brands innovating in the wellness market.
Case Study 1: Shrooms are About to Boom
19% of Gen Z point to 'sleep' as the reason they are seeking health supplements. The desire for better sleep and downtime is crucial to these digital natives, who sometimes struggle to 'switch off'. CBD oil has been used for several years now, gaining popularity as a sleep and anxiety remedy. However, health retailer Holland and Barrett predict that shrooms are set to be the next big wellness trend. Superfood company Your Super have already introduced a 'Magic Mushroom' hot chocolate: "a powerful mix of raw cacao and functional mushrooms to help you unwind at the end of the day."
Research shows that functional mushrooms like 'Lion's Mane' have real health benefits: A double-blind, parallel-group, placebo-controlled trial was performed on Japanese men and women diagnosed with mild cognitive impairment. At weeks 8, 12, and 16 of the study, the Yamabushitake (Lion's Mane) group showed significantly increased scores on the cognitive function scale compared with the placebo group.
This innovation has real potential to shake up the supplement space.
Case Study 2: Natural Makeup that Doubles as Skincare
As discovered by EY, body image is becoming a major wellbeing concern; young people are taking greater care over what they put into, and on, their body. This trend translates into makeup that offers skin benefits such as hydration and exfoliation. As noted by Forbes, "beauty is converging, if not already converged, with skincare, health and wellness." This holistic combination impacts not just product application onto the skin, "but also the surrounding habits, choices and lifestyle as well as nutrition."
In answer to this movement, It Cosmetics have launched 'Your Skin but Better' foundation. The lightweight product contains "hyaluronic acid and aloe extract for plumped-up hydration" as well as "exfoliating acid and vitamins E and B5 for a soft, healthy, super-hydrated result". In the past, these ingredients would be typical of moisturisers and exfoliators, but they are a welcome addition to makeup.
This trend is likely to be well received by the younger generation with 57% maintaining a regular skincare routine. They typically opt for dewy, natural makeup looks, demonstrated by the popularity of the so-called 'Clean Girl Aesthetic'. Makeup that hits all these points and draws upon the connection between body image and wellbeing, could be a profitable new direction for CPG brands.
Case Study 3: Healthy Fizzy Drinks are In Demand but Don't Compromise on Flavour
If you were on social media in 2020 you might remember Rohit Roy for his viral Tik Tok journey to cut down on fizzy drinks. Every day he would record himself saying "Hi everyone, it's day X and no fizzy drinks for me today". As he nears day 1000 (where has the time gone?) it would appear that this movement is picking up steam.
Diet and nutrition is key to the young consumer's holistic view of health, with 68% saying that a well-balanced diet is critical. However as noted previously, body image is of utmost importance to this generation who won't be tempted by "fad diets or highly restrictive eating plans". Rather, they are seeking options that fit into their lifestyle.
CPG brands are likely to have more luck with healthy alternatives to well-loved favourites. This has been particularly noticeable with fizzy drinks. One such brand is Oli Pop, a functional beverages startup who offer reduced sugar soda alongside added health benefits like fibre, probiotics, and botanicals. The brand operates an online subscription model which can easily be edited via SMS, supplying valuable data on consumer behaviour and consumption habits. In the past 5-years the company have experienced a 5800% increase in search growth and raised $43.5 million in funding. Functional beverages represent an extremely worthwhile opportunity for brands in this space.
Case Study 4: Sexual Wellness Presents Profitable Opportunity
As mentioned, Gen Z's picture of health extends to sexual orientation, health and identity. One brand taking advantage of this opportunity is 'Honey Pot', who recently ranked at number 2 on Insider's list of the top 10 Gen Z brands, and were featured among Nielsen's 2022 emerging brands in the sexual health category. Honey Pot make feminine care products, from organic cotton pads to bath bombs that rebalance vaginal PH.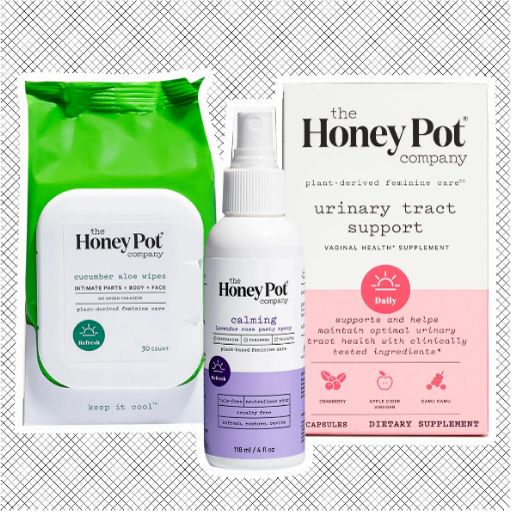 They have all the hallmarks of a successful Gen Z brand: plant based, transparent about their sourcing, created by women for women and committed to social sustainability. Honeypot have formed partnerships with several social impact initiatives helping to bring maternal care, clean water, hygiene and menstrual care to disadvantaged communities across the world. They also meet the demand for personalisation which is currently taking the CPG industry by storm; after completing an online quiz you are directed to a targeted product bundle, categorised into 'rituals' such as 'First Period Ritual' and 'Night Time Ritual'. They sell direct-to-consumer ecommerce which allows for online community building; consumers are encouraged to ask their sexual health questions to healthcare providers and offered further advice through 'The Honey Potluck' podcast.
In 2022 the brand had twice the penetration among Gen Z as they did among all US households. According to Forbes, their sales have grown eight-fold in the last two years, and their repeat purchase rate sits at 36%. For brands looking to see success among young consumers, sexual wellness is not to be overlooked.
Key Takeaways for CPG Brands
In summary, due to the broader picture of health driven by the younger generation, retail opportunities are expanding. Companies that can adapt to changing consumer needs will be at the forefront of the wellness industry for years to come. In particular:
Gen Z are seeking sleep-aids and mushrooms are set to be the next big thing;
When it comes to makeup the more natural the better, and bonus points if it's kind to skin;
Healthy alternatives to fizzy drinks are in demand. However, don't compromise on flavour and don't promote diet culture, please!
Sexual wellness is popular among younger consumers, especially if brands walk-the-walk, supporting social impact and education.